---
In 1886, David H. McConnell, 28, of New York, established the California Perfume Company. David McConnell was a book salesman who dreamt of achieving success in business. He left his father's dairy farm in northern New York State to pursue his dream further. The women who bought his books were delighted when presented with a gift of a small bottle of perfume. In 1886, at the young age of 28, McConnell founded a perfume company, called the California Perfume Company. This was the predecessor to Avon.
California Perfume Company
A year after the village incorporated, Suffern became the site of the first laboratory for the growing California Perfume Company, later known as Avon. In the spring of 1897, McConnell built a 3,000 square foot facility on Fair Street to develop and manufacture his fragrances. By 1902, two large additions to the building were needed to keep pace with the demand for his products.
In 1898, the California Perfume Company had 5,000 women going door to door, selling perfumes and other cosmetics, cookbooks, moth repellents, shoe and furniture polishes, shaving soaps, and headache cures. By 1928, sales ladies (the predecessors of Avon Ladies) were active in all 48 states of the United States.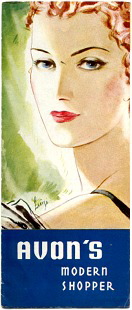 CPC Sales Brochure 1933
In 1939 the name of the company was changed to Avon Products, Inc., in tribute to David McConnell's favorite playwright, William Shakespeare and Stratford on Avon.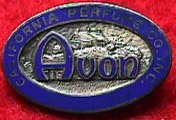 California Perfume Company Avon Representatives Pin
The Avon book says this type of pin was used from 1927-1938. 7/8" Marked on back "Made in U.S.A. Stand EMS Co. Prov. RI" Jewelry type pin. $32.50 item #620.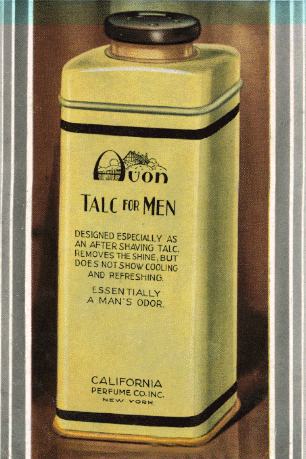 Avon Talc for Men, 1935
Avon Talc for Men sold for 37 cents per can in 1935, and offered an "essentially masculine" smell, according to a 1935 advertisement of the California Perfume Company.
For more information about the history of the California Perfume Company, click on the following link: http://www.californiaperfumecompany.com